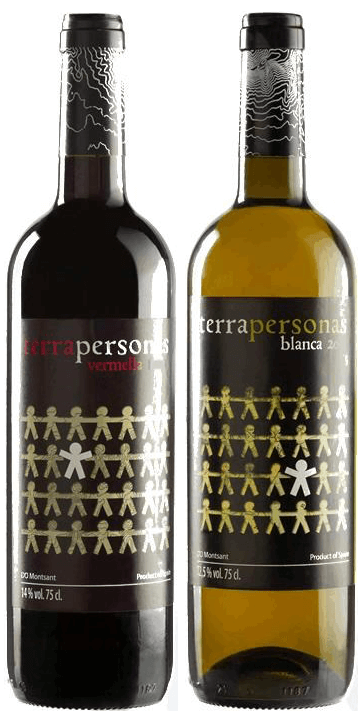 "Our philosophy is to provide understandable, quality, value guaranteed Montsant wines of distinctive character that consistently provide the perfect balance of flavour and integrity. Terra Personas wines typify everything that is uniquely Montsant: bold, generous and full of aromas with varietal integrity and expression of the climate and soil."
Ruud Persoon, winemaker & owner of Terra Personas
Terra Vermella 2013
Grape varieties
40% Carignan
30% Grenache
30% Syrah
Wine Analysis
Alcohol: 14.0 %
Sugar: 0.40 g/L
Total Acid: 4.70 g/L
Tasting notes
In appearance the wine has a beautiful cherry colour with violet highlights.
On the nose the wine displays a pronounced intensity of wild raspberries, cherry and herbs.
On the palate is rich and full bodied, with hints of spices forest fruits, and a long mineral finish.
Beautiful and uncomplicated wine, which can be served with a nice BBQ, or game meat, lamb-shank or pasta. Best served at 16-18ºC.
Terra Blanca 2014
Tasting Notes
Attractive pale straw in colour. Clear and bright with a green tinge and some viscosity.
The nose displays pronounced notes of white flowers, fresh cut melon, and tropical fruits with creamy background tones.
Subtle notes of lemon, vanilla and toast in the mouth, with a fresh and crisp yet mouth-filling and a long mineral finish.
Serve with salad, white meats and seafood. Best served at 8ºC.
Grape varieties
60% Macabeo
40% White Grenache
Analysis
Alcohol: 12,5 %
Sugar: 0,44 g/L
Total Acid: 5,6 g/L